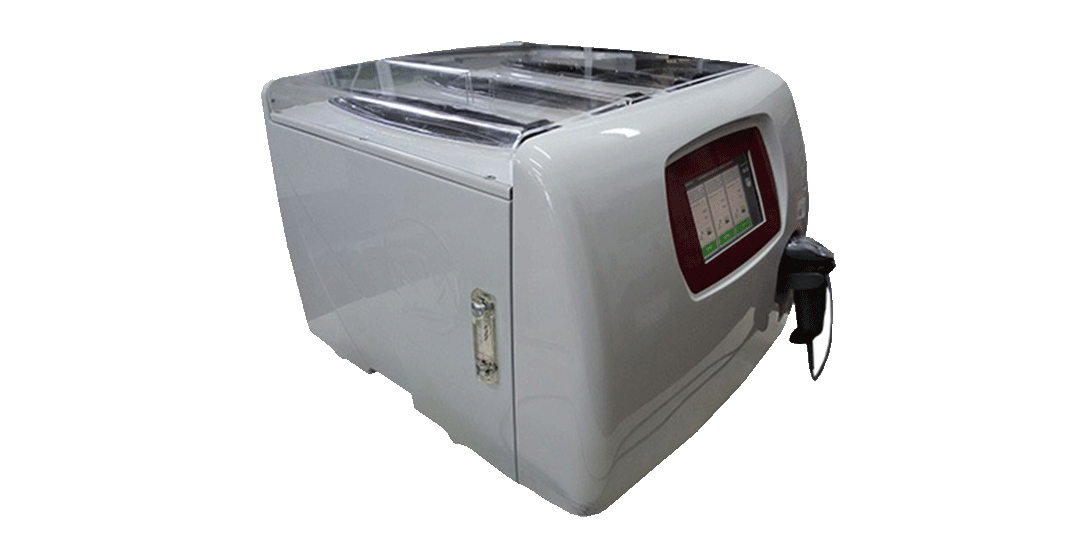 WPFD-3/6
W-PFD (or W-SCFD) is a completely innovative machine, both from the point of view of the choice of materials and in the way it works. In fact, using this thawer it is possible to trace every step of the process; by reading the bar code or other forms of identification, the machine can recognise the operator, the type of bag and then from the bag trace the donor. Through the electronic control unit with touch screen it is possible to transfer the information in the user's local network or fi le all the defrosting plan data on SD cards.
Unlike other appliances on the market, which only measure the temperature of the bath, the KW thawer, which has several sensors in each pocket, continuously keeps the temperature of each bag under control, ensuring:
• Total traceability of everything that has occurred during defrosting.
• Validation of the entire defrosting process.
• Perfect homogeneity of the plasma defrosted with Hydro_pump_massage® i.e. the machine can subject the bag to a hydromassage treatment, so that at the end of defrosting the plasma is homogenised reaching a better quality.
• Asynchronous defrosting of several units of fresh frozen plasma or of several units of stem cells; the thawer is fi tted with diff erent independent heating units, so it is possible to activate the heating processes asynchronously and in a fully independent way.
• No stoppage of laboratory activity, except for exceptional events. Should any problems arise in a defrosting pocket, or if a bag breaks, the contents would in any case remain inside the pocket without contaminating the heating fl uid. The pocket can easily be removed, washed under running water and then refi tted without stopping the heating process of the other pockets.
KW
KW-Med has been serving the medical industry for over 26 years with a wide variety of products such as surgical blades, sutures, monitors and more! KW-Med provides the medical community with high quality medical equipment at an affordable price! KW-Med specializes in the distribution of medical supplies and equipment to the markets of doctors, hospitals and dentists. They are proud of their commitment to quality and their uncompromising promise to provide the best customer service in the industry.