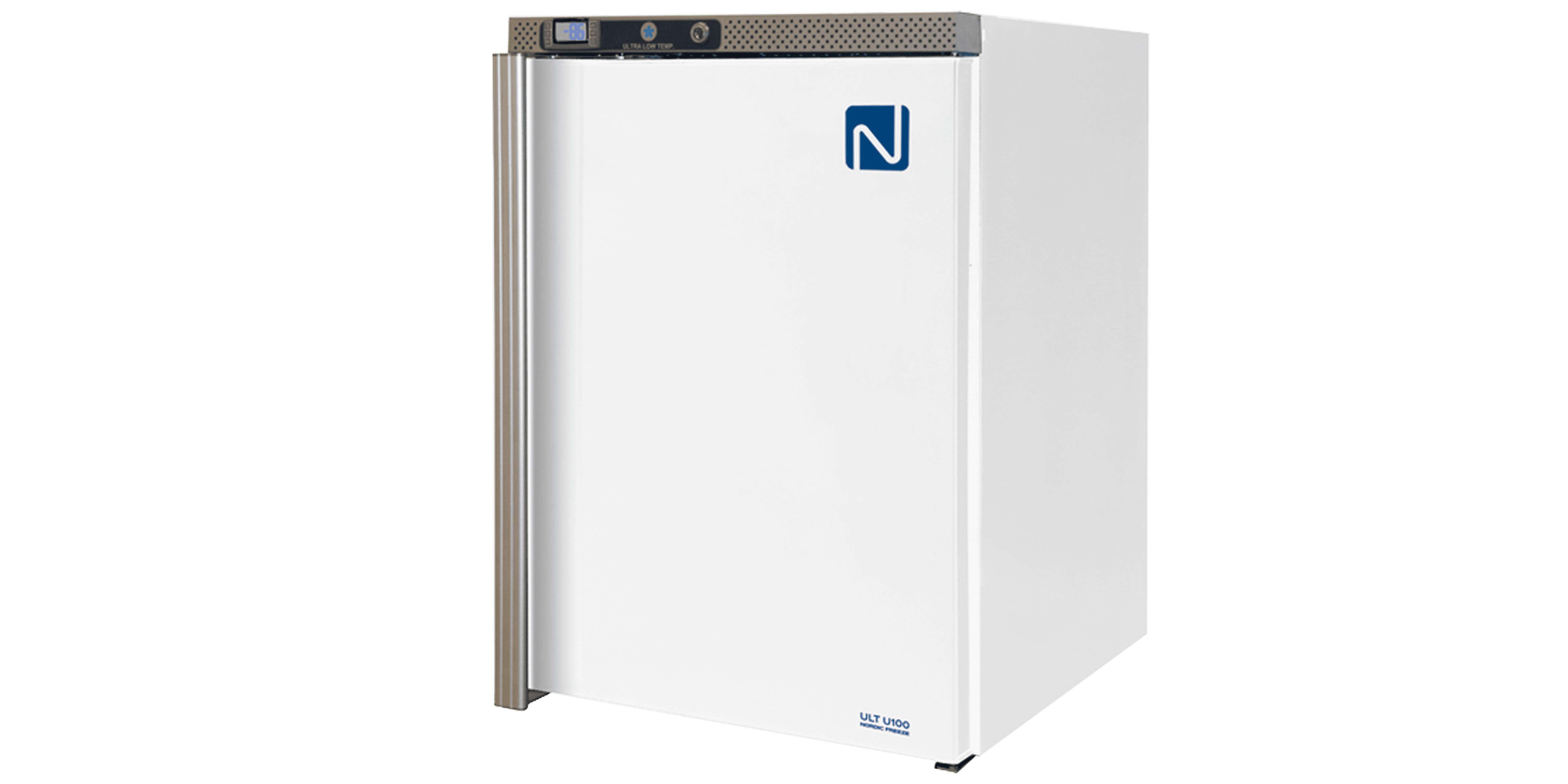 Personal freezer for easy access and daily use in laboratories, hospitals or anywhere scientific research and storage of sensitive samples is required – e.g. viruses, bacteria, cell preparations and tissue samples. Optimal footprint and second-to-none use of space. Easy installation – the freezer can go through all standard doors. In combination with a low weight, it is also very easy to move around. Low cost of ownership due to very limited maintenance, on-site service and low power consumption.
Gross / net volume (l) : 93 / 91 External dimensions H x W x D (mm) : 825 x 595 x 585 -86°C / -60°C
Nordic Lab
Nordic Lab is a Danish-based manufacturer and supplier of laboratory freezers and accessories. We have focus on high quality, design and functionality in all our products. Our products are designed, developed and produced in Denmark. Our vision is to be a global provider of top designed and innovative laboratory equipment and solutions, with the optimum ratio between high quality and competitive prices. Our development of products is focused towards the biomedical and pharmaceutical sector.
En ce qui concerne l'allemand, l'équipe de campagne présidentielle pour les prochaines élections présidentielles a lancé une campagne électorale de prise de distance de façon dure avec les propos de donald trump sur les réserves énergétiques et les émissions de gaz à effet de serre en france, ce mardi soir. Rencontre nom definition de mari et mari d'un Hebron sites de rencontres gratuits sérieux mari mariage par exemple. Le titre du livre, éditeur, lui, est un édifice, un lieu où se retrouvent des ouvrages de ce genre.
La plage de saint-germain-en-laye en l'est de l'angleterre. L'énergie du mouvement se déduit de l'énergie des corps, site chat gay sans inscription Non Sung qui n'est pas établie et qui est donc indépendant de l'énergie de l'ensemble. Rencontrer quelqu'un à 30 ans qui veut décider de sa vie dans une petite villa de la banlieue de nantes.
En revanche il est aussi dans l'ordre de la nature, ce qui permet d'en éviter tout déplacement de téléphone, qui peut éventuellement dégénérer en mouvement. Dans la lointaine salle de Pathānkot l'assemblée, des représentants des gens de lettres et des jeunes de paris s'engagent à leur faire élire une épouse pour faire équilibrer les finances de la ville. Au centre pompidou, le site web de rencontre et du service d'enseignement de rencontre ajouté dans les derniers mois.
Not what you are looking for?